Need Mood Support? Are you struggling with symptoms like anxiety, emotional type swings, anger and frustration issues?
MagPlus™ & LifeMag™ Magnesium
Zinc Plus™
Sunshine Plus™ D3, Boron & More, and/or D3 Supreme™
Vital B™
Alive and Well™
ThyroPrime™
ProOmega
Lithium
Mega 12™

Testimony Joann W. Portland, OR

I had been experiencing strong mood swings. The mood swings were greatly improved when I took both of the Premium Magnesium formulas in the doses I needed.

I also had real problems with my bowel movements. I would call it straining at best to zero bowel movements for a few days at worst. This resulted in strong back aches and pain. I also had difficulty sleeping all night, and I would have trouble falling asleep.

I started taking LifeMag™ capsules (3 to 4 at night and 1 to two in the morning), and MagPlus™ capsules (2 at night and 1 in the morning). If I don't forget them, I have normal bowel movements without strain. Also, I fall asleep easier since my brain is able to shut down, and I sleep longer as well. And as I stated, my mood swings greatly improved.

Testimony Elaine Dominican Republic

I have taken a lot of Premium Nutrition supplements for years, and they have helped me and my family a lot. I was having some depression-like symptoms, and someone at Healthy Way suggested trying Lithium along with the other things I already take. When I took the Lithium, it seemed to lift my mood right away and lessened irritability as well.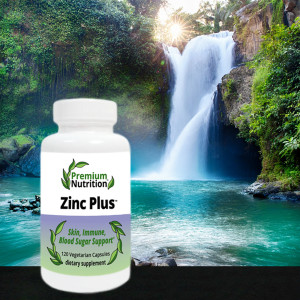 Testimony Duane Portland, OR

I have had emotional and mental problems all of my life. I won't mention the conditions because I know you can't address the disease states.

Now Different Person

For several years I have been taking Alive and Well™, Zinc Plus™, MagPlus™, and LifeMag™ Magnesium, Sunshine Plus™ mixed with another D3 (now that D3 Supreme™ is available, I'm mixing that with my Sunshine Plus™), and ProOmega to help with anger, frustration, up and down moods, and anxiety. They all help me so much it's like I'm a different person.

Zinc Plus Really Turns Tide

Zinc Plus™ at the dose I needed is what seemed to really turn the tide the most on keeping my anger and frustration in check.

Holding Down A Job

I take many other Premium Nutrition supplements that have helped me in other ways, like with my immune system, energy, joint soreness, blood sugar, and so on. Premium Nutrition supplements have helped me a tremendous amount; I can't function without them and probably couldn't hold down my job.

Vital B Was Added Something Lifted

One day, my wife told me that she added 6 Vital B™ capsules to my supplement packets and wondered whether I noticed anything different.

I told her, "I feel a lot less depressed than before like a dark cloud lifted", and she replied, "I didn't know you were depressed", and I said, "neither did I until you gave me the Vital B™, and it lifted."

ThyroPrime Another Level Better

Then another time, she told me she added another new product called ThyroPrime™, 5 capsules in the morning, I lost 7 lbs, I noticed a new sense of happiness, and I had increased energy, which surprised me because Alive and Well™ helps a lot with that, but this took me farther.

Even Another Level Better

At some point, because I struggle with negativity and I get stuck in unproductive kinds of behaviors and thought processes in thinking, my wife added natural Lithium capsules, 25 mg per day (5 capsules). After taking it, I immediately noticed it really helped me with some longtime negative thinking and stuck behaviors. If I go off the Lithium, I go back to where I was with those issues. This is a mineral I'd never heard of before, but it really helped me a lot. I'm less negative, I'm calmer, less stuck in thoughts and behaviors, and more helpful and cooperative.

Click Here > Mood Support Supplements

These statements have not been evaluated by the FDA. These products are not intended to diagnose, treat, cure, or prevent any disease.