Pam From Newberg OR Said:

Pam said she has asthma and normally has to use an inhaler. She recently decided that even though her inhalers are covered by insurance, and she is on a fixed income, she wanted to find some natural options to help support her lungs instead. She decided since Premium Nutrition Mountain Air™ nourishes lungs, she would try that. Pam said taking 5 Mountain Air™ keeps her off using her inhaler.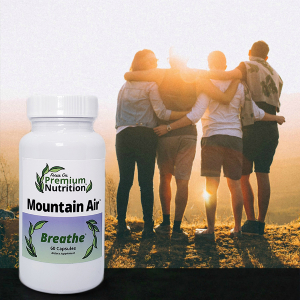 She also said she takes some of the other formulas we carry, like Premium Nutrition Inflasera™, Premium Nutrition BioLife C™, Premium Nutrition Nature's Wellness™ capsules, and Rex Smith Nutrition D3 Supreme™. She has to pay out of her own pocket for all these amazing nutrients because her insurance won't cover them, but she said it's worth it because she is trying to keep her immune system strong. She wishes she could afford many other formulas, but cannot afford other natural stuff at this time.
Click Here to Lung Support Supplements
These statements have not been evaluated by the FDA. These products are not intended to diagnose, treat, cure, or prevent any disease.
---