Premium Nutrition Vital B™ Complex + High B12 & Biotin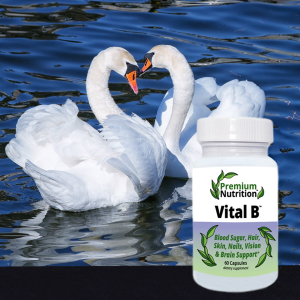 Vital B™ capsules help me to cope with stress, have more energy, and be more productive at work.
(Sam from Spanaway)
My mother is no longer concerned about her thinning hair since using Vital B™ capsules.
(Patrick from Seattle)

Vital B™ capsules have really reduced my work-related stress levels.
(Tom from Bellevue)

My bad skin (from working as a waitress) has definitely improved with Vital B™ capsules. If I stop using them, my skin gets worse again.
(Monica from Lynnwood)

I feel a definite MENTAL ENERGY so I can multi-task better at work with Vital B™ capsules.
(Jerry from Lake Stevens)

My blood sugar stays in the normal range when I use Vital B™ capsules.
(Thomas from Everett)

When I take 8 to 10 capsules of Vital B™ my eyes stay clear and bright, enabling me to see better. I work on computers all day, and I have to see clearly to do my job well. Also, when I get too low in potassium foods and my potassium supplement, my eyes get blurry.
(Holly from Healthy Way)

What's Your Vital B™ story? Premium Nutrition Vital B™ helps hair, skin and nails, blood sugar, eyes, nourishes nerves, helps support memory, digestion, stress, energy, mitochondria, mood, and so much more.
We would love to hear your story, email us with your Premium Supplement True Story, your name, and city and state you live in. We will only use your first name, and the city and state with the Premium True Story.

Click Here & Contact Us > Email Us Here
These statements have not been evaluated by the FDA. These products are not intended to diagnose, treat, cure, or prevent any disease
---