Do you have pain, stress in the body, joint issues, muscle issues, circulatory issues, or digestive problems? Premium Nutrition Inflasera™ might be a good source of nourishment for you. You can take this product as supportive nutrition every day. During times of difficulty or extra stress, you can up your amounts.

Testimony Of Formulator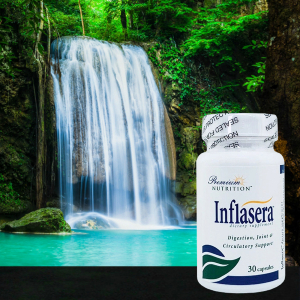 Dr. Berkowsky, the formulator of Inflasera™, normally takes 1 to 2 capsules per day as daily nutritional support. He was injured in an accident and upped his dose to 8 capsules for a couple of weeks.

Dr. Berkowsky said, after his accident, he did not have to take pain medication during the healing process because of taking the higher dose of Inflasera™.

I love a true story! Anytime I can avoid taking medication it makes me happy, I would much rather take natural things if I can to resolve an issue. How about you?

Most Tell Us

Most people tell us they take 1 to 4 capsules per day. Experiment with your amounts, and see what you feel the best taking. You can take more at any time, your choice, just Listen to Your body when you experiment. If you feel the same or better, good, if you feel worse back off your experiment.

Turmeric In A Balanced Formula

Everyone is talking about the benefits of turmeric these days, did you know this formula contains a superior quality turmeric extract (which is 95% curcuminoids, the active ingredient)?

Rex Smith, Nutrition Researcher, says not to take herbs alone because single herbs tend to imbalance people in the long run and can even mess people up a lot over time. Dr. Berkowsky's Premium Nutrition Inflasera™ is a very balanced, thought-out combination of herbs and is a great way to get turmeric in a combination that is balanced and uplifting. You can pair this nicely with many formulas, including Flex Motion™ and Mega 530™ Glucosamine.

These statements have not been evaluated by the FDA. This product is not intended to treat, prevent or cure disease.
---