Through manufacturing problems, hard-to-find herbs, sweat and tears, Premium Nutrition MagPlus™ Magnesium has finally made it back earlier than expected. Thank You to Rex Smith, and Angela our warehouse manager for all their hard work to get this back for all of us.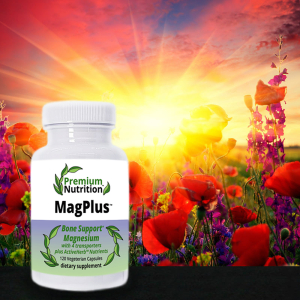 MagPlus Special Recipe

Premium Nutrition MagPlus™ Magnesium has a special recipe of magnesiums that are scientifically bonded to 4 different kinds of transporters. Premium has a special way of bonding their minerals and the process makes Premium minerals more absorbable than other products sold.

High-Quality Ingredients & More

Whenever the two kinds of magnesium run out from Premium, no matter how many other brands we all try, I rarely hear anyone that says any of them work, and if they do, they say the other brand they tried only worked a little bit. Premium Nutrition Supplements are different because of how things are made, the high-quality sources of materials they use, and the recipe of the ingredients.

Different Recipes Both Life-Changing Formulas

Premium MagPlus™ and Premium LifeMag™ are different formulas, and both have different recipes of ratios of magnesium. Some people do better on one more than the other in a lot of cases. Also, many people need some of both kinds of the Premium magnesium and should mix them to find their best blend, so they are able to be taking all the magnesium support their bodies actually need.

Click > article to help figure out magnesium/calcium balance

4 Properly Bonded Forms Of Magnesium

MagPlus™ is a blend of 4 properly bonded forms of magnesium, amino acids, and a herbal blend. If you can take this formula it will do more for you than magnesium alone. Let's take a look at just a couple of ingredients in the herbal blend.

Rosemary Leaf

A lot of us think, rosemary, isn't that just a spice to use in the kitchen? This is a high-quality source of rosemary and is so much more than a spice for cooking. Here are a few things we can mention that rosemary nourishes and supports:
Antioxidant support
Anti-microbial support
Supports blood sugar balance
Supports mood
Supports the health of brain cells
Supports memory
Supports heart health
Nourishes eyes

Oat Straw Aerial Parts

Oat Straw, also called avena sativa (sounds pretty), is rich in minerals and trace nutrients. Nutrients such as silica, magnesium, phosphorus, iron, chromium, calcium, manganese, zinc, protein, B vitamins, vitamin A, and vitamin C.

Some Benefits Of Oat Straw
Nourishes the nervous system
Supports brain function
Supports reducing anxiety and stress
Supports mood
Supports blood flow
Supports people with sleep problems
What Can Magnesium Nourish & Support

Magnesium is known for bone support, brain support, nourishing the heart, and nerves, helping with relaxation and sleep, helping with cramping, supporting blood sugar, nourishing the mitochondria, mood support (emotional, anxiety), and so much more.

Best Sources of Magnesium

Do yourself a favor, and make sure you get all the magnesium in the best forms available, it's one of the most important nutrients you can take to help your body. We believe both Premium Nutrition Magnesium formulas are the best you can find on the market.

These statements have not been evaluated by the FDA. These products are not intended to diagnose, treat, cure, or prevent any disease.
---