Joanne J. From San Diego, CA
We had a tropical storm of sorts and I had a reaction in my lungs. I was up coughing at night-I could not sleep and I would just lay there and cry. This went on for 3 days and I suddenly remembered I had Mountain Air! I took 2 caps a couple times and it was GONE! I could not believe it!!
I have a lot of Rex's teachings stored in my head and I am so grateful.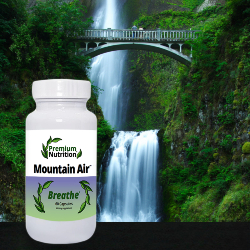 Premium Nutrition Mountain Air 60 Vegetarian Capsules
Helps support the respiratory system
Helps support breathing
Helps support the immune system
Some ingredients you may recognize: Holy Basil, Green Tea Leaf extract, Boswellia, Yerba Santa, Schisandra berries
See label for full ingredient list
Click Here to check out Premium Nutrition Mountain Air

---