Premium Nutrition Nature's Wellness


Going to the wedding of my twin's middle child I flew in at 1 pm, and the rehearsal dinner was at 5 pm. My twin Lori calls me 3 days before, "I need something for my immune system" I asked her, Do you have Nature's Wellness in your cupboard??? Yes, she did! She started taking it right away. As I was getting ready to leave she sounded stronger already.

Of course, she had other Premium supplements like Alive and Well™, BioLife C™, Sunshine Plus™, which she was taking, and she rested because she is an Energizer Bunny. I told her I have been taking more Nature's Wellness™ capsules the entire week before this trip with more of my favorite Alive and Well™.
(Lynne Employee from Healthy Way)
A few years ago, I started focusing on Nature's Wellness™ capsules to strengthen my immune system. I did this in late winter/early spring. I was pleasantly surprised when I noticed how much stronger my immune system felt during that winter/spring.

Even though I consume several Premium Nutrition supplements, I did still experience a noticeable strengthening of my immune system for the better with the Nature's Wellness™. (Janice Employee from Healthy Way)

I started using Nature's Wellness™ approximately 27 years ago after hearing about it from Rex Smith,Nutrition Researcher, who spoke about it on the radio. He had talked about his son using it. I worked at Safeway at the time, and constantly was in the public and with employees, so I wanted something to strengthen my immune system. I could tell it really strengthened my system. Back then I was also taking Zinc Plus™, Alive and Well™, and BioLife C™ for my immune system along with some other Premium Nutrition formulas. (Holly Employee from Healthy Way)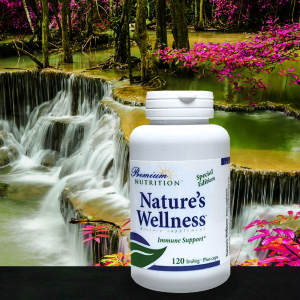 Contains Cordyceps Mushroom

Mushrooms are big in the news. There are twenty-one amazing ingredients in Premium Nature's Wellness™, and one of the ingredients it contains is Cordyceps mushrooms as part of this balanced formula.
Supports oxygen use
Helps increase ATP, energy to the muscles
Supports strength and energy
Supports immune system
Nourishes kidneys and adrenal glands
Supports lungs, colon, liver, heart
Supports blood sugar

Contains Chaga Mushroom
Supports blood sugar
Supports heart health
Supports joint health
Loaded with antioxidants that fight free radicals
Supports immune system
Nourishes lungs
Nourishes white blood cells

How Many Can We Take

Most people tell us they take 2 to 6 capsules per day of this formula. Some people do take more and you can too as needed. Listen to Your body. How many capsules do you feel the best taking?
These statements have not been evaluated by the FDA. This is intended for informational purposes only. This product and information are not intended to diagnose, treat, cure, or prevent any disease.
---