Premium Nutrition Inflasera™is our best-selling herbal formula for powerful immune system balancing.* It nourishes and supports your joints, eyes, circulation, digestion, immune system, and more.*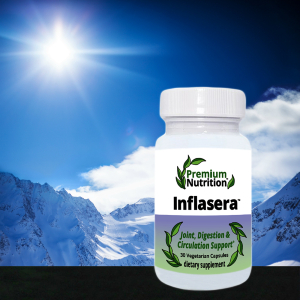 Trauma Stresses

When we initially have some trauma or if we have stresses that are ongoing in our bodies, the body activates the immune system in response.*

Balanced Herbal Factors

Inflasera™ is a collection of balanced nutrients, herbal factors that have been used for hundreds and sometimes even thousands of years to help the body's immune system balance and operate in the way the body was meant to.*

Inflasera™ nourishes and provides nutrients to our body to better cope with stress inside our system.*

Online Review From Jack

I had been suffering from heel discomfort for several years, and I tried many things before I tried Inflasera. Nothing gave me the support I needed for my heels until I noticed after taking only one Inflasera daily that my heel felt normal. I tested this out by walking on the treadmill for a week, and the heels still felt good. I am a believer now.

I LOVE a true testimony. How about you?

*These statements have not been evaluated by the FDA. These products are not intended to diagnose, treat, cure, or prevent any disease. The views and nutritional advice expressed are not intended for the purpose of providing medical advice. Please consult with your healthcare practitioner if you are taking any medications or have any medical conditions. Individual results may vary.

Reference: Focus On Nutrition Radio Program Featuring Dr. Berkowsky

---