A Testimonial from Marsha on Premium Nutrition WellGest™ and more:

"I have been taking supplements for approximately 15 years, always searching for the highest quality. I was so happy to have found Rex Smith, Nutrition Researcher, on the RADIO about 3 years ago. What Rex said about most calcium being absorbed poorly and causing hardening in parts of the body, and you shared many, many other things that made sense, I started trying supplements from Premium Nutrition, and Natures Treasures, with much success.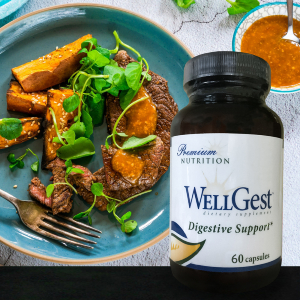 I steadily have felt healthier, rarely get sick, and when I do get sick, I attribute it to not taking my Nature's Wellness™ capsules regularly. I sleep better now and require fewer hours than I used to. Plus, my energy is usually very good.
I've been wanting to express my sincere appreciation for your radio program, Focus On Nutrition, which I never miss, and the kindness that you have shown, for quite some time. It's not easy for me to pick one favorite product in the Premium line because I have many, but I guess number one for me would be Premium Nutrition WellGest™ capsules for digestion.
I have always had trouble digesting food where it feels like it just sits there, but when I take WellGest™ I feel a whole lot better. I have experimented with digestive enzymes but didn't notice any difference, in fact, some things have upset my stomach.
I have left WellGest™ out of my order a few times thinking I would be okay without it but always wind up kicking myself for not having it when I need it, which is most of the time.
Again, thank you so very much for making such a difference in my family's and my life. I love being able to share the information I have learned from you with my friends and family. They are actually starting to listen, a friend of mine from California ordered Premium Nutrition LifeCal™ Calcium last week and then she told her friend in Arizona about it."
Sincerely,
Marsha ~ a very satisfied and thankful customer
These statements have not been evaluated by the FDA. These products are not intended to diagnose, treat, cure, or prevent any disease.
---