We all know that strong bones are of great importance for our quality of life. Weak bones require slow and careful movement and they still may break even without movement. Falls often occur after "spontaneous fractures" and yet these are generally viewed by the medical industry as being the result of the fall, when the "spontaneous fracture(s)" is (are) the cause of the fall.

Improve Quality Of Life

Strong and healthy bones and teeth improve our life quality and provide more choices in living.

Youthful Skin

Healthy and "youthful" skin is something else most people care about, both women and men. And we need to have strong fingernails and healthy hair is useful and important to most women and men as well.

How do we build these areas of health and well-being safely and effectively?

Premium Nutrition Strong BONES Plus™ capsules provide a great source of Trace minerals and micro trace minerals. These tiny mineral nutrients are keys to being alive and an enhanced quality of life. One major factor involves nutrients necessary to create bone matrix beyond the essential Premium Nutrition LifeMAG™ and or MagPlus™ Magnesium capsules, and for most of us the Premium Nutrition LifeCAL™ capsules as well. These different and additional nutrients inside the Strong BONES Plus™ formula do things for our bodies (including our bones and teeth) that can only be accomplished using Strong BONES Plus™ capsules on a regular basis.

TruPure™ Biologic BONE Matrix builders™ formula ingredients will take our bodies to good places that would otherwise be impossible to achieve.

Heart Of The Formula Is H3 Blend

The heart of this exclusive formula is the H3 blend with all of these three ingredients starting with the letter H and therefore the H3 designation.

H3 Blend: TruPure™ Horsetail, TruPure™ Hawthorne Berry extract and TruPure™ HMC.

The TruPure™ Premium designation is always meaningful and states that the ingredient is of a much more costly and uniquely higher quality that what is generally being used by other companies in the herb, nutrition and health field. It is always important to properly combine ingredients and avoid the use of single herbs.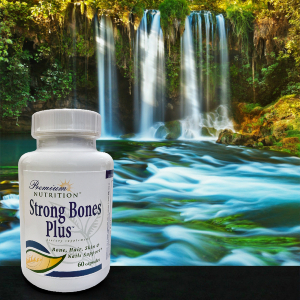 This unique TruPure™ Horsetail does even more amazing things in our bodies when combined with the other ingredients in Strong BONES Plus™ capsules.

The other two parts of the H3 blend are very costly and yet large amounts are used because that is what is right for people. This H3 blend combined with the other keys in this formula create bone building and skin youthifying and hair and nail health gains that can best be achieved with this life changing formula.

Elderberry In Strong Bones Plus

An important note, is that the Elderberry in Strong BONES Plus™ capsules delivers additional benefits and is the most expensive ingredient in this formula. The potential immune and antioxidant benefits of this total formula add to the already mentioned factors.



Other Bone Supportive Supplements

*No statements anywhere in this post have been evaluated by the FDA. These products and information are not intended to diagnose, treat, prevent or cure disease.
---